Finding publications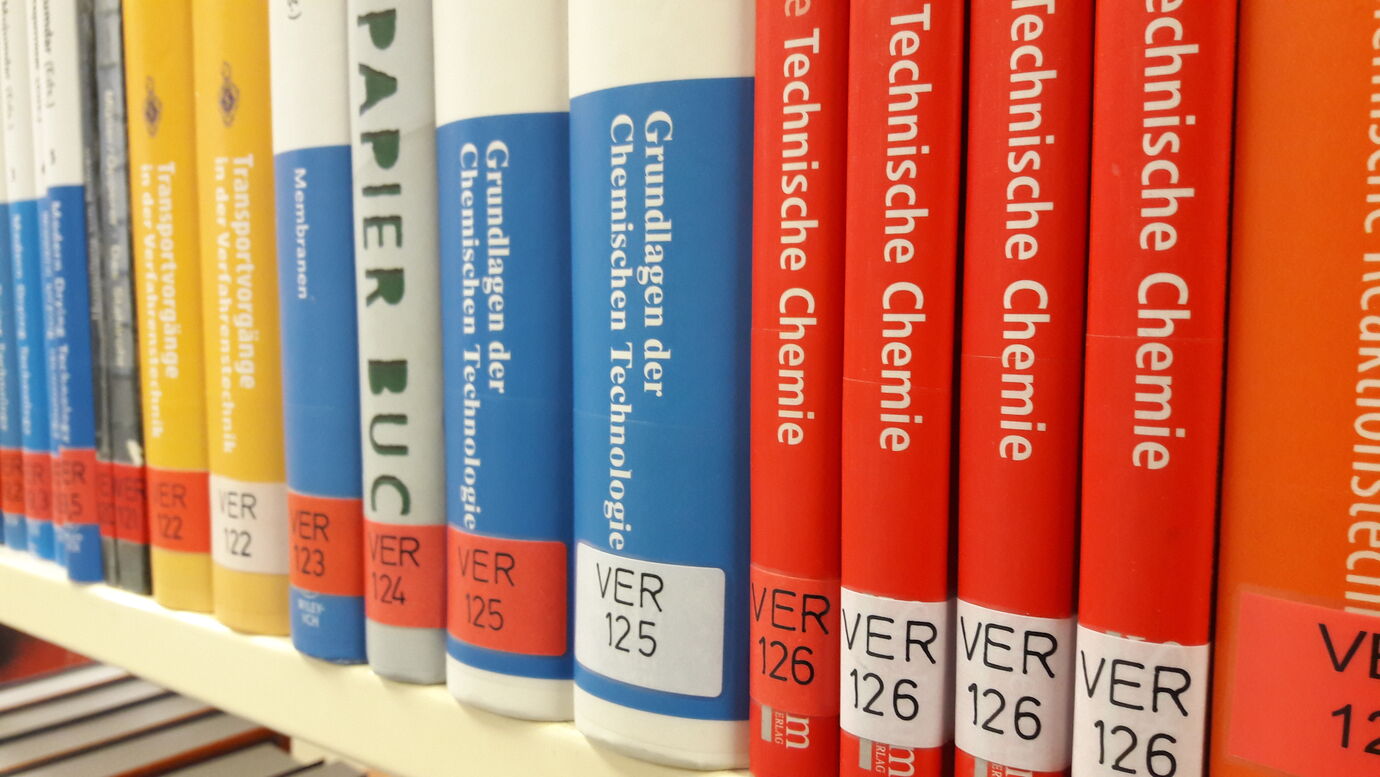 Library catalogue
The library catalogue lists all media available in the library of THGA. These include print books, CDs, DVDs, maps and charts, print journals and papers from selected periodicals. In addition, you can research some e-journals and e-books. You can find more information on e-books, standards und data bases on the relevant subpages.
Media currently on loan can be reserved, please note our information on borrowing titles.
Details on where articles indexed in the catalogue can be found are available in the detailed view under: "details on title".
From catalogue search to the shelf
All media that are physically present in the THGA library are provided with a signature which tells you exactly where you can find the book or media on a shelf. This signature is also included in the catalogue.
Books in the open access area receive a signature consisting of a specialist abbreviation and a number sequence which is fastened to the spine of the book, for example, MAT 182.
Presentation in the open access area
The three reading rooms of the library are also referred to as the open access area. Here, media are sorted by fields and made available to everyone.
Reading
room
Focal points
1
Geo-sciences, mining technology, construction materials, environmental engineering, energy business, safety engineering, process engineering, materials engineering, manufacturing
2
General, economics, law, education, psychology, social studies, languages, applications, DIN-standards
3
EDP/IT, mathematics, electrical engineering, mechanical engineering, engineering mechanics, physics, chemistry
Detailed overviews can be found at individual shelves in the reading rooms. Media marked with "Magazin" (archive) are not freely accessible and need to be ordered from the borrowing desk. You can find more information on the borrowing process on borrowing titles.
Archive (Magazin)
The archive of the library stores media (theses submitted at THGA, volumes of journals, unbound journals, specialist books, course books, company publications external theses and legacy media) and this area is not freely accessible.
Please request a title from the archive via email stating the following details from the catalogue: author, title, year and media number. We will inform you as soon as the media are available for borrowing. Further information can be found on borrowing titles.
Digital library
Literature which is available at other libraries or data bases can best be searched using the digital library. This library provides information on different fields and media; however, a full-text search is not always possible.
If you found literature which you want to borrow and which is not available at the THGA library, you can order that via interlibrary loan.
Queries

If you have any queries, please contact the library by email: bibliothek[at]thga.de or per telephone: 0234 968 3250.