Close to the campus and the city centre of BochumResidential accommodation for our students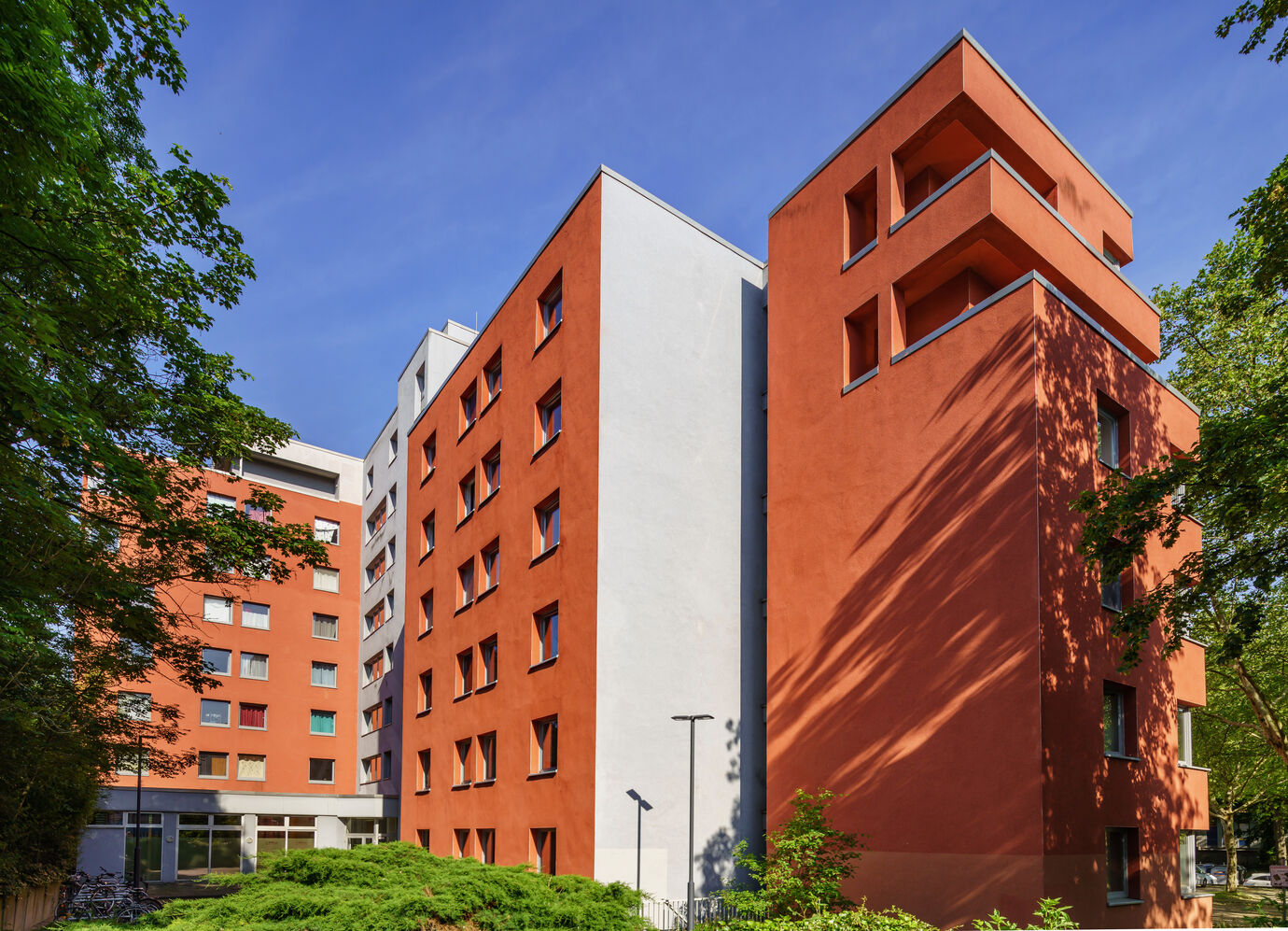 Our students' accommodation is located at Westhoffstr. 15 in Bochum, about 200m away from THGA. There are two options available: apartments consisting of two rooms and a kitchenette/bathroom, and single rooms with shared use of kitchen and bathrooms. The rooms are usually unfurnished.
*** News***
The considerable price increases since the beginning of the year and the energy suppliers' announcements of further increases are now forcing us to increase our flat rents in the student residence.
The rent will therefore be increased moderately by 10%for new contracts from 01.01.2023. The prices for rooms or flats are as follows:
From 01.01.2023:
Rental price single room: 220,00 €
Rental price flat: 420,00 €
A transfer of the second room of the flat for use by a roommate is generally permitted. Details will be regulated in the rental contract.
The rental prices have been calculated based on a feasibility study and are comparable to rents for apartments and rooms of similar standards in the vicinity.
*pcm = per calendar month
Students' accommodation - FAQ
You are eligible for a place if you are properly enrolled at THGA as a student. Plese complete the application form completely, truly and legibly. If you enter into a tenancy agreement under false pretences, the agreement can be terminated without notice.
The fastest way to apply is per email, but we also consider applications that reach us by "snail mail" as paper copies. You will be given a written notification that we have received your application, but there will not be any information in between about the status of your application.
Please inform us immediately of any changes in your postal address or email so that we can notify you without delay as soon as a room or apartment will be available.
The rent for an apartment is €420.00 pcm* (incl. bills).
The rent for a single room is €220,00 pcm* (incl. bills).
These rents have been derived from a feasibility study and are comparable to apartments and rooms in the area of a similar living standard.
If you fulfil the criteria as a tenant, you can move into your apartment/room once you have paid the first rent and the deposit. To move in, please make an appointment with the administration to ensure a proper handover. Please contact Ms Lichtblau on 0234/968-8240 or studiwohnen(at) dmt-lb.de.
During the handover, the condition of the apartment/room will be noted in a form. As the previous tenant has handed over the apartment/room without any damages, we will assume that any future damages will have been caused by you and will charge the cost for repair works to you.
In Germany, a tenancy agreement is a mutual agreement where one party (the landlord) lets a rental object to another party (the tenant) which pays money in return. The landlord is obliged to permit the tenant the use of the rented object, and the tenant is obliged to pay the rent agreed for this use.
Another part of the tenancy agreement are the tenancy conditions and the house rules; by signing the tenancy agreement, the tenant accepts those conditions and rules and is obliged to observe them. These rules and conditions stipulate how to use the rented object and how to facilitate living together at the accommodation so that all residents can live in peace and quiet.
There is a telephone jacket in each room, and the tenant can choose their own provider (telephone bills are not included in the rent). If you already live in Bochum, you can check if you can keep your old number.
All students of THGA can use the university WIFI network. You will receive your personal access data when enrolling at the university. In addition, there is a cable high-speed Internet connection available in your apartment/room. You may want to connect additionally via your telephone connection and provider (extra charge). cable TV is provided by Vodafone/Unitymedia and the charges for this are already included in your rent.
Since 2013 the German TV licence, which is used to fund public broadcasting, is charged per household and not per device. This is good news if you share your apartment as you can then share the cost. The rule is: one apartment, one licence ( €17.98 pcm).
If you get a student's grant, you may be exempt from paying the licence. You can find the different application forms and more information here: www.rundfunkbeitrag.de.
Of course, the things that we use everyday are subject to tear and wear - and that goes for your apartment/room, too. There are simple defects which will not make living in your apartment impossible, but need to be repaired soon, such as a defect light or a loose door handle.
Please inform us of such defects as soon as possible. You can use the form provided (Schadensmeldungen) and send it via email to: studiwohnen(at) dmt-lb.de.
In the basement of Westhoffstr. 15, 44791 Bochum you can find two washing machines and two dryers which are intended for joint use. You need tokens to operate them.
One token for one washing or drying cycle costs €1.00.
You can get the tokens from a vending machine right next to the reception; opening times: Mon-Fri 7:00-21:30, Sat 8:00-15:00.
The tenancy agreements are entered into for a period of 4.5 years provided the tenant observes the rules and conditions agreed to. This limitation means that many students can get the option to live at the budget-friendly students' accommodation (rotation principle).
In individual cases, the tenancy can be extended for another six months. This extension can be applied for by writing a letter stating your reasons to the Accommodation Administration of DMT-LB, Herner Str. 45, 44787 Bochum; you can also send this letter per email to: studiwohnen(at) dmt-lb.de.
Contact
Tanja Lichtblau

Administration of Residential Accommodation
E-Mail

Telephone

Office

G1 RK18